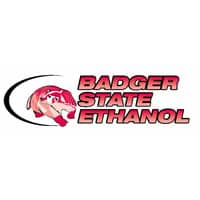 Badger State Ethanol Surpasses 1 Billion Gallons of Production · To Global Automakers – Offer More Ethanol Vehicles in U.S.!
Badger State Ethanol (BSE) is a dry-mill ethanol production facility in Monroe, Wisconsin. The Limited Liability Company (LLC) was founded in May of 2000 with the primary intent to produce a mix of products placing it in two distinct industries with attributes that would be commodity in nature—fuel component and livestock feed
The plant began production in October of 2002 with an annual name-plate capacity of 40 million gallons of ethanol and 128,000 tons of animal feed known as distiller grains.
Today, BSE has the production capacity of over 85 million gallons of ethanol per year. In addition to the DDGS, we also produce 50% corn protein (Dry Matter Basis) feed and corn oil. Carbon dioxide is also captured for use in the food industry. BSE also makes America less dependent on foreign oil with our clean burning, environmentally friendly, renewable fuel.
MISSION STATEMENT
Badger State Ethanol is a locally owned company. Therefore, its business conduct becomes a direct reflection of the integrity of its investors, its employees, the surrounding community and the God it serves. Because of this responsibility Badger State Ethanol pledges:
To produce environmentally friendly products through environmentally friendly processes.
To operate efficiently and profitably without compromising the health or safety of its employees.
To recognize its role in enhancing rural development and the profitability of agriculture through value added processing and the creation of quality jobs.
To investigate the opportunities for new technologies or expansion and to encourage continuing education for all employees.
To acknowledge the importance of its long-term relationship with Monroe and the surrounding agricultural community.