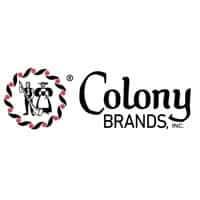 Colony Brands
Headquarters
1112 7th Avenue
Monroe, WI 53566
Phone: 608.328.8400
Employment Office
851 1st Avenue
Monroe, WI 53566
Phone: 608.328.8480
Website: https://www.colonybrands.com/
Headquartered in Monroe, Wisconsin, Colony Brands delivers an array of products and services to their customers and clients.
Colony Brands together with its subsidiaries and affiliated companies, are a successful, multifaceted enterprise consisting of numerous multichannel retail brands, several operational support companies and a portfolio of affiliate businesses. 
Through catalog and internet shopping, their subsidiaries' retail customers are empowered to purchase from an exciting selection of products including apparel, shoes, home décor and furnishings, outdoor, health and beauty, electronics, toys, food and gifts using our convenient credit options.
With over 90 years in business, Colony Brands, which started as The Swiss Colony, has become knowledgeable and proficient in what they do. Operational support subsidiaries and affiliate businesses provide marketing, consumer credit, collections, product sourcing, information technology, wholesale food and charter aviation. Together these provide business solutions and drive success for the entire enterprise and empower outside clients to reach their business goals.
Colony Brands is an empowerment enterprise. Career options are endless and they offer many benefits and programs to promote the health, happiness and continuous growth of our employees.
History
In 1926, founder Ray Kubly helped design an ad campaign to sell cheese by mail order for a college marketing class project. Flyers offering cuts of bulk cheese were mailed to potential customers and as fifty orders came in that first year, the cheese was cut and packaged for shipment in Ray's basement.
What started as a small food mail order business known as The Swiss Colony grew steadily for several decades. In 1969 an in-house credit plan called Choose 'N Charge was introduced, allowing customers the opportunity to buy now and pay later. Non-food merchandise was first offered with the launch of Seventh Avenue catalog in 1982. Over the years, the company created a number of retail subsidiaries to sell a variety of merchandise, apparel and food items to consumers. These companies each offer their own credit plans to buyers. Today, our companies' brands are strong competitors in the catalog and internet retail industry today. We've also created a number of operational support subsidiaries and affiliated companies to service the retail brands.
Prevailing as one of the largest direct marketers in the United States, Colony Brands remains family-owned, operating under the guidance of Ray's son, Pat Kubly, Chairman of the Board and grandson, Ryan Kubly, Vice President of Strategic Planning. The Kublys' corporate mission to provide generous financial support and volunteerism in our communities, empowers our employees and neighbors to lead the way in helping to make our world a better place.