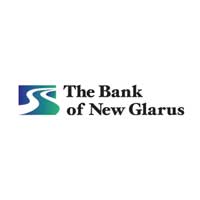 The Bank of New Glarus is an independent community bank headquartered in New Glarus, Wisconsin.  Branch offices located in New Glarus, Belleville, Monroe, Juda and Brodhead make The Bank of New Glarus the largest deposit bank in Green County. They offer a full range of financial products and services to the community, including personal banking, business banking and wealth management.
The Bank of New Glarus was the first official bank in New Glarus located at 113 Sixth Avenue. Doors opened on October 30, 1893 with $12,000 in opening capital. It began as a five-way partnership with Fred Kundert, J. C. Zimmerman, Thomas Hefty, T. C. Hefty, and B. A. Kundert. On June 27, 1903 the bank incorporated under state charter and became a publicly owned bank with deposits of $121,000.
In 1910, the bank moved to 501 First Street, occupying a one-story concrete structure until 1969. The building was then torn down and the current Swiss style building was constructed. In 1977, the bank added a drive up facility on the corner of Railroad Street and Fifth Avenue. In April of 1995, the bank received a face-lift, with the entire exterior being painted.
FUN FACT: The Bank of New Glarus has been the victim of one attempted burglary. In the early morning hours of August 25, 1900, a pair of burglars entered through a back window, knocked off the dials of the vault and attempted to blow the door off the safe. The charge backfired and instead of blowing the door off the safe, the charge blew out scarring the pair who stole Dr. Blumer's horse and buggy, which they wrecked just out of town in their escape. They were never apprehended.
History
We first opened our doors on October 30, 1893 and today we continue to be an independent bank providing financial guidance and solutions. Through our relationships with our customers and communities we help them: grow in their financial understanding and skills, make wise choices and achieve their goals and dreams. The Bank of New Glarus has branches located in Belleville, Brodhead, Juda, Monroe, and New Glarus, offering convenience of multiple locations with the hometown customer service our customers deserve.